While this article is not so wood related, it is a great example of how warehouses and distribution centres in other sectors are automating their systems.
The BMW Dynamics Center in Dingolfing is welcoming the launch of a pilot project that will allow incoming spare parts to be transported safely from the incoming goods station to the picking warehouse with the help of the autonomous AutoBox. This will allow 20 pallet cages with a total weight of up to 20 tons to be transported on a loading surface measuring barely 20 m2. The aim of the pilot project is to automate processes across long distances and link up parts of a building that are further away.
Employees are responsible for loading up the AutoBox with incoming spare parts outside the incoming goods station. The transport platform then moves independently through a set of roller shutters toward the picking warehouse, where the parts are stored temporarily before being shipped out to customers. Four SICK microScan3 safety laser scanners not only ensure the vehicle remains secure, but also provide navigation data that allows the AutoBox to make its way around the room independently. The advantage of this is that there is no need to interfere with the existing building structure, which was previously the case with other automated guided vehicle systems.
Safety laser scanners ensure accident-free travel
There are also eight Safety-related TIM-S 2D LiDAR sensors, accident-free travel among the various means of transport found within the Dynamics Center. At the same time, these sensors are used as vertical surface scanners to prevent unauthorized access to the air freight safety area. The omni-directional drive allows the platform to maneuver even around tight bends and small loading bays.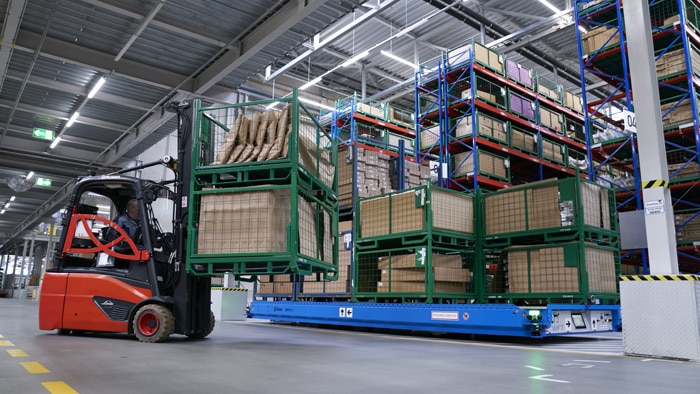 After arriving in the picking warehouse, the electrically driven AutoBox parks up independently and automatically launches the battery charging process. This maximizes productivity by ensuring that separate charging breaks are not required. The AutoBox pilot project is part of a complete series of autonomous transport systems that are currently in use across various BMW Group facilities.
At the BMW Group plant in Leipzig, for example, the AutoTrailer is being piloted alongside the SICK outdoorScan3 to transport truck trailers independently from their parking spaces to the loading and unloading stations.
Source: SICK